Tube Amp Vs Modeling Software Shootout Part 1: Fender Deluxe Reverb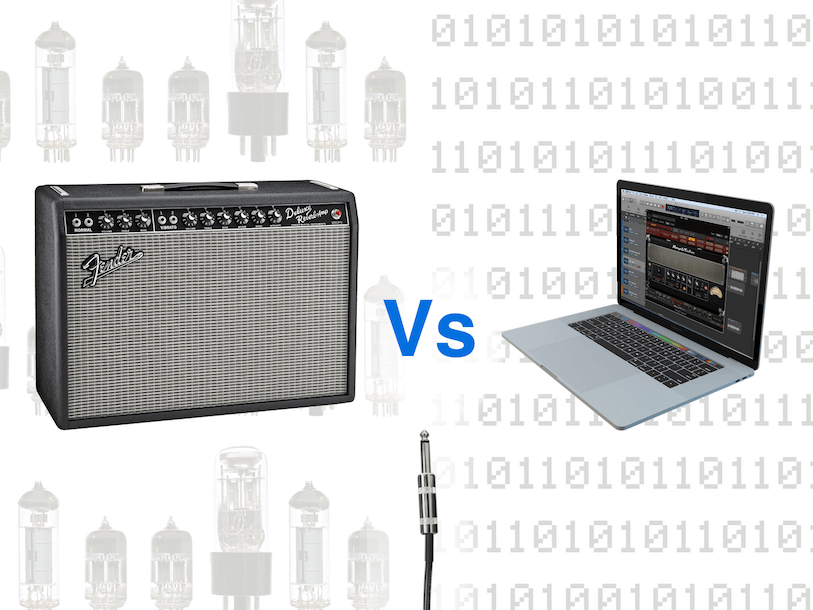 In this amp vs modeling shootout, we compare several popular amp modeling software products against a real Fender Deluxe Reverb and a Peavey 5150/6505 tube amp.
Has amp modeling finally come of age? Or does software just provide a "close-enough" approximation?
While recently gearing up to record a new batch of songs, I thought about all the prep work I'd soon be involved with before I could even hit the "record" button. Dialing in amp tones, setting up and testing microphones, and routing cables all takes precious time away from actually playing the guitar. (Did I mention all the cables!?!) Although there is a certain amount of fun in playing with studio gadgetry, I found myself wondering if it might be worthwhile to take a second look at the possibility of recording with one of the many software amp modeling options available. After all, there's no denying the plug-and-play convenience software modeling offers in terms of streamlining the recording process. Very few cables to run. No excessive amp volume to disturb family or housemates. Easy recall of amp settings. But what's the tradeoff? Is amp modeling truly ready for prime time? Or does software provide just a "close-enough" approximation? To answer my own questions, I decided to put together a comprehensive listening test where I could directly compare a real tube amplifier against the latest guitar amp modeling software.
The test
Perhaps one of the most elusive characteristics of tube amp modeling is capturing the effect of the power tube stage being driven into overdrive. The 22 watt Fender Deluxe Reverb is easily overdriven, thus making the amp a great test subject for comparing how accurately modeling software can emulate the rich, creamy sound of power tube distortion.
The Fender Deluxe Reverb "dirty" and "overdrive" tests heavily focus on the sound of an overdriven power tube stage.
Since tube amps react differently depending on how hard you pick or strum, it's imperative that any test compares the exact same performance. So to provide a fair and accurate testing ground, I've employed a professional audio switcher to simultaneously split the guitar signal to both the real amplifier's input jack and the computer's DAW interface. No guitar pedals were inserted in either signal path, and absolutely no eq, compression or other effects have been applied to the recording. This way, the only differing variable between each take is the amp modeling software itself!
The amp modeling software
The shootout involves the latest version of several popular software amp products and their respective models for the Fender Deluxe Reverb (be it an official licensed model or otherwise). Every attempt was made to duplicate the actual amp settings. However, in instances of dramatic difference in tone and volume, minor adjustments were made in an attempt bring the sound of the emulation closer to that of the real amp. Largely though, what you hear is what you get: raw guitar signal and a pure amp tone without the aid of any production editing or effects.
So without further ado, on to the Tube Amp vs Modeling Software Shootout!
Fender Deluxe Reverb
The majority of the tests here focus on the 22 watt Fender Deluxe Reverb amp. It's relatively compact combo design and versatility among different musical genres have made the Fender Deluxe Reverb one of the most recorded, if not popular tube amps on the face of the earth. This particular unit was a reissue model purchased circa 2010, and has received no modifications over the course of it's life. The amp is biased conservatively, and the speaker was mic'ed with a Shure SM57, positioned within 1" of the grill and on center of the speaker cone.
Tip: On review, I've found some of the takes can sound pretty similar when played back through tiny laptop or phone speakers. So for best results, be sure to listen to the files on a decent pair of headphones or external speakers!
Fender Deluxe Reverb - Clean (Vol. on 3)
Real Amp
Native Instruments Guitar Rig
IK Multimedia Amplitude
Peavey Revalver
Fender Deluxe Reverb - Dirty (Vol. on 4)
Real Amp
Native Instruments Guitar Rig
IK Multimedia Amplitude
Peavey Revalver
Fender Deluxe Reverb - Overdriven (Vol. on 10)
Real Amp
Native Instruments Guitar Rig
IK Multimedia Amplitude
Peavey Revalver
For the next series of listening tests, we'll fire up the Peavey 5150/6505 amp to find out how accurate software modeling is when emulating preamp tube distortion, commonly employed in high-gain amps prevalent to rock and metal genres. You can check out part 2 of the shootout at: Tube Amp Vs Modeling Software Shootout Part 2.

Sponsored by
Guitar Tab Tutor
app for iOS.
Master all essential guitar techniques
with the
ULTIMATE
reference guide to guitar TAB! Download today for FREE!